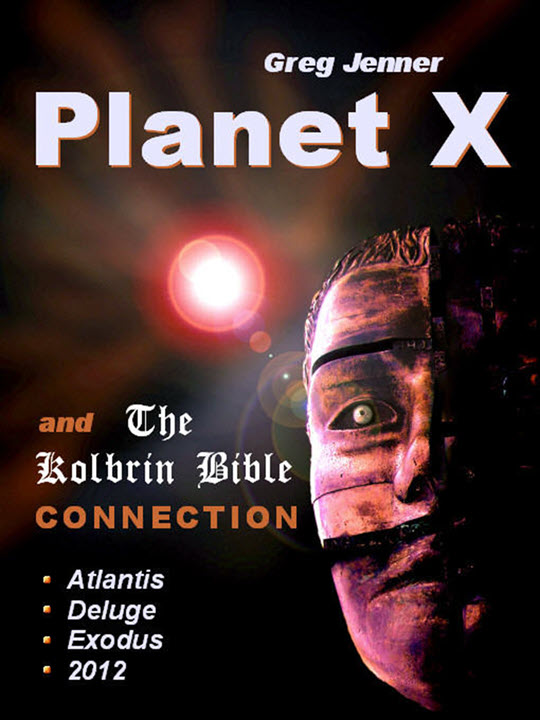 Planet X and the Kolbrin Bible Connection: Why the Kolbrin Bible Is the Rosetta Stone of Planet X
Greg Jenner, Author
Marshall Masters, Contributor
Why The Kolbrin Bible is the Rosetta Stone of Planet X
The Kolbrin Bible describes a massive object the Egyptians called "The Destroyer," which orbits our Sun and is due to return with catastrophic results. Today, we call it Nibiru or Planet X.
Greg Jenner spent decades researching these prophecies and believes the ancients have clearly warned us of this object's return. 
He also correlates Nostradamus's "Bearded Star," Mother Shipton's "Fiery Dragon," and the "Red Comet" warning of the Mayan Calendar Prophecies.  
For those new to the "Destroyer" prophecies of The Kolbrin Bible, this book offers a unique, rapid mastery path into this knowledge.  Reading it only takes a few hours, after which you have the critical insights you need to make an informed decision about studying these ancient prophecies from around the world, and which are coming to pass today.
Hardcover
Cover: Laminate Hardcover
Pages: 90 pages
Weight: 10.2 ounces
Dimensions 6 x 0.19 x 9 inches
ISBN-10: 1597721166
ISBN-13: 978-1597721165
Published: May 9, 2008
Paperback
Cover: Paperback
Pages: 92 pages
Weight: 4.8 ounces
Dimensions: 6 x 0.19 x 9 inches
ISBN-10: 1597720704
ISBN-13: 978-1597720700
May 9, 2008
Greg Jenner spent decades connecting the dots for this book. Now you can do the same in a single evening!
Excerpt from the Introduction
This work will outline 'the return' of the Destroyer by arguing its cyclical nature. To prove this crucial point this writer includes three epic sagas gleaned from the Kolbrin Bible, including:

The sinking of Atlantis (Egypt's motherland)
The Deluge (Noah's Flood), including a Celtic account of the Deluge
The Exodus (including the slaves flight to freedom).

As you will discover later, the Destroyer caused or contributed to all three of these events.
 Table of Contents
Foreword by Marshall Masters
Jeremiah's Warning
Planet X Investigation
The Kolbrin Bible
The Space Monster's 'Incoming Mail'
The Solar System's Dark Companion — Our Horned Dark Sister
The Hour of 'The Destroyer' Is At Hand
Destroyer's Doomshape — A Twisted Serpent
Sinking Of Atlantis — Triggered By Phaeton (The Destroyer)
Noah's Flood — Triggered By the Destroyer
The Floodtale of Celtic Tradition—Triggered By The Doomdragon'
Exodus — Triggered By The Destroyer
Paying Homage To The Destroyer
The 'Shape' of Things to Come
Prophet Elidor's Warning of The 'Frightener'
The Countdown to 2012